Find out how to update your delivery address information for orders that have not shipped yet.
Tip:
Please check that all of your information is correct before placing your order. We cannot accommodate address changes, receiver name, shipping method, or add/remove items after an order is already in the "fulfilling" status.
Some exceptions may be made (via desktop device only) for customers located within the continental United States.
How to modify order information
App
Select the person icon in the lower right of the screen to view account information.

Select "

Orders

" located directly under the "

Quick Links

" menu.

Scroll through the orders listed to locate the order to modify.

If options are available to modify or cancel the order, they will appear.

If the order is already in "

fulfillment"

or has shipped, we are unable to update any order information.

You may also view orders by using the category selectors at the top of the "

Orders

" page such as "

All

", "

Shipped

",

"Processing

", or "

Cancelled

".
Desktop
Sign in to your account to access your

Order History

.

You can search from the "

Find Orders"

drop-down menu for the desired time frame or you can also enter your order number in the search bar.

If the order is still eligible for modification, you can click the "

Modify"

button for each section or click the "

Cancel Order"

button to cancel it.

After clicking either option, your order or item will be canceled and you will not be charged.
You can choose from the order management options listed as seen below: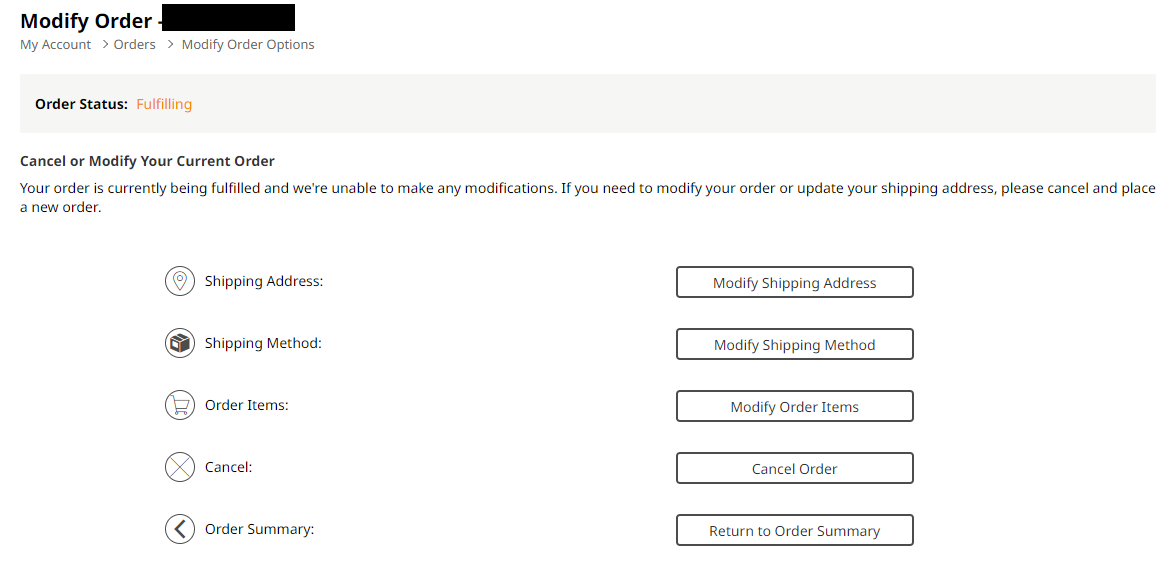 If you still have questions, feel free to chat with our virtual assistant or send us an email.
Find out more