Please take the following steps to avoid common problems related to credit card/debit card payments:
Ensure the card data is entered accurately.
Ensure there is a sufficient balance to cover the purchase.
Ensure the card is activated or has not expired.
Ensure the card is able to be used for online purchases.
Ensure the card can be used for global purchases.
If using a VISA gift card, use the name the card is registered under

If the gift card was not registered under either the purchaser or the recipient, please enter UNEMBOSSED NAME in the name field.

Ensure the card has not exceeded the daily withdrawal or purchase limit
Ensure that the card and bank are enabled for 3D Secure (3DS) verification.
If you are still experiencing issues, we recommend contacting the financial institution/card issuer to discuss matters with them as iHerb is unable to assist any further.
Payment Declined After Placing Order
If you have received the below 'Payment Declined' email notification, it is likely for a reason outside of iHerb's control:

We recommend contacting the financial institution associated with the payment method and discussing the matter with them.
If you still wish to place the order, please check the email you received and click on the link to 'Update Payment Info'. Please be advised, the link expires within 48 hours so you must do this urgently.
If you do not update the payment information within 48 hours the order and the pending authorization with your bank will be canceled. No funds will be received by iHerb. You will receive the below email informing you of order cancellation: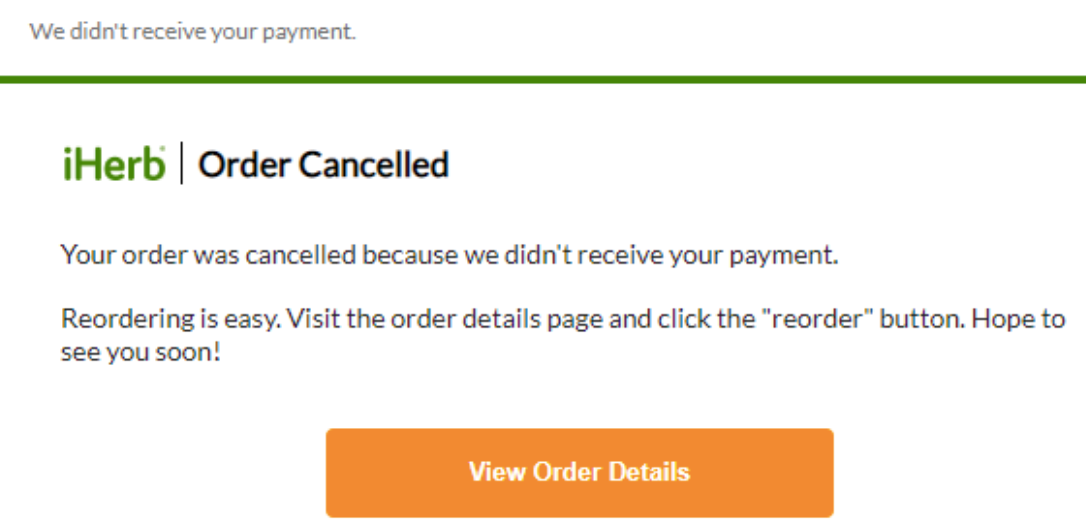 If you are still showing charges on your end after 3-5 business days of the order being canceled, please contact your bank as iHerb never receives any order payment until after the order has been fulfilled and shipped from our Fulfilment Centers.
If you still have questions, feel free to chat with our Virtual Assistant, a live agent (if available), or you may submit a support ticket.
Related Articles: