When placing an order and adding a new payment method, there is a box checked to save your credit card information for future purchases. It is checked by default and says ''Save Credit Card For Future Purchases''. Leave this unchecked so it will not store the payment details.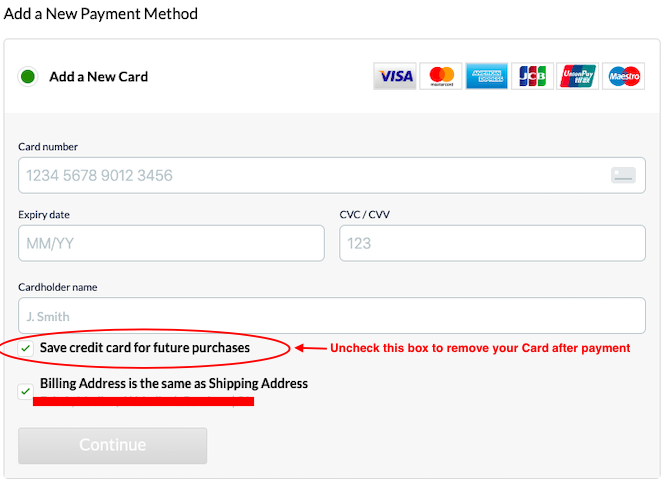 To edit saved payment information or delete any saved payment information on your account, simply select this link to go to your 'Payment Methods' under your 'Account Settings' .
After following the link, simply select if you want to 'Edit' or 'Remove (Delete)' the saved payment information.

If selecting 'Edit', customers may edit card expiration information, the name on the card, the billing address associated with the card, and add a new billing address by selecting the option '+ Add a New Billing Address'.

Make sure to select 'Save' when finished.

If selecting 'Remove (Delete)', a pop-up will appear asking you to verify the choice to remove the stored payment information.

Simply select 'Remove' in the pop-up to finish removing the stored payment information.
If you still have questions, feel free to chat with our Virtual Assistant, a live agent (if available), or you may submit a support ticket.