All shipping methods have restrictions on order weight, order price/value, item type and delivery address.
Due to these restrictions, some carriers/shipping methods may be unavailable. Find out how to check for these restrictions on the mobile app and website below.
Tip: If you're unable to choose your preferred shipping method, it's likely because your cart exceeds the carrier's order limit or the carrier doesn't service your region. Unfortunately, iHerb has no control over these carriers' policies.
Common reasons for unavailable carriers
Order exceeds carrier weight limit
Order value exceeds carrier limitations

Certain carriers may not carry orders above a certain monetary value.

Carrier item restrictions

Certain carriers may not transport food items, liquids, etc.
Go to our 'Shipping Information' page to view carrier item restrictions.

Customs laws & regulations

Your country's customs regulations may have restrictions on certain products. If you have prohibited items in your cart, you won't be able to check out.
Check weight limits, price limits, and item restrictions
App
While in cart, select 'Shipping' located within the 'Order Summary' section.


Under each carrier, you'll see their limitations: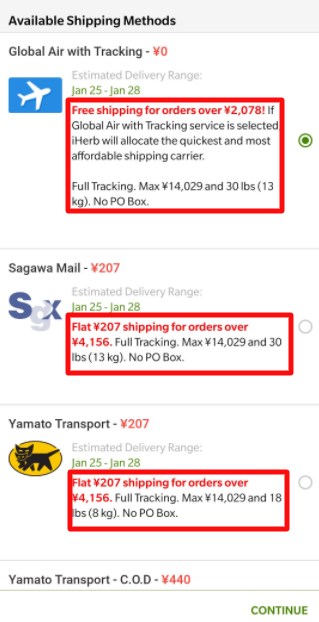 Desktop
While in cart, select a shipping method.

Under each carrier, you'll see their limitations:



If any carrier limit or country restriction is not adhered to, you'll see an error message in your cart.


View your order weight
App
Go to the main checkout screen (where you find the Shipping Address, Shipping Method, and Payment Method screens).

Scroll down and select 'Cart'.


Locate the weight of each item displayed beneath the product name: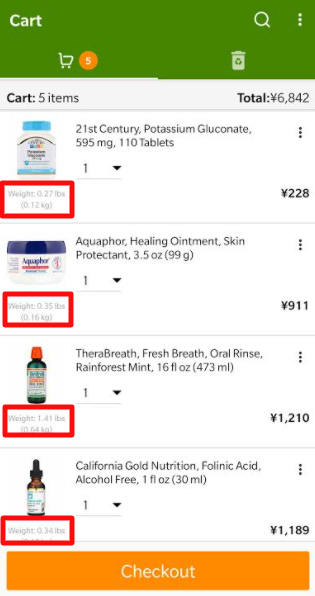 If required, adjust your cart to meet the carrier's requirements or select a different carrier.
Desktop
Scroll down to the 'Getting Shipping Estimates' section in your cart.

Enter your zip code and click 'Calculate'.

The weight of your current order will be displayed beneath the zip code field:


If your order exceeds weight or price limits, you'll see an error message above the impacted carrier.
'Restricted item' notification in cart

Some items are not allowed for import to the destination country. If you have a restricted item in your cart, you'll see an error message. Simply remove the prohibited items and proceed to checkout.
Besides local customs restrictions, carriers can also have restrictions for certain items. This will be indicated in cart like this: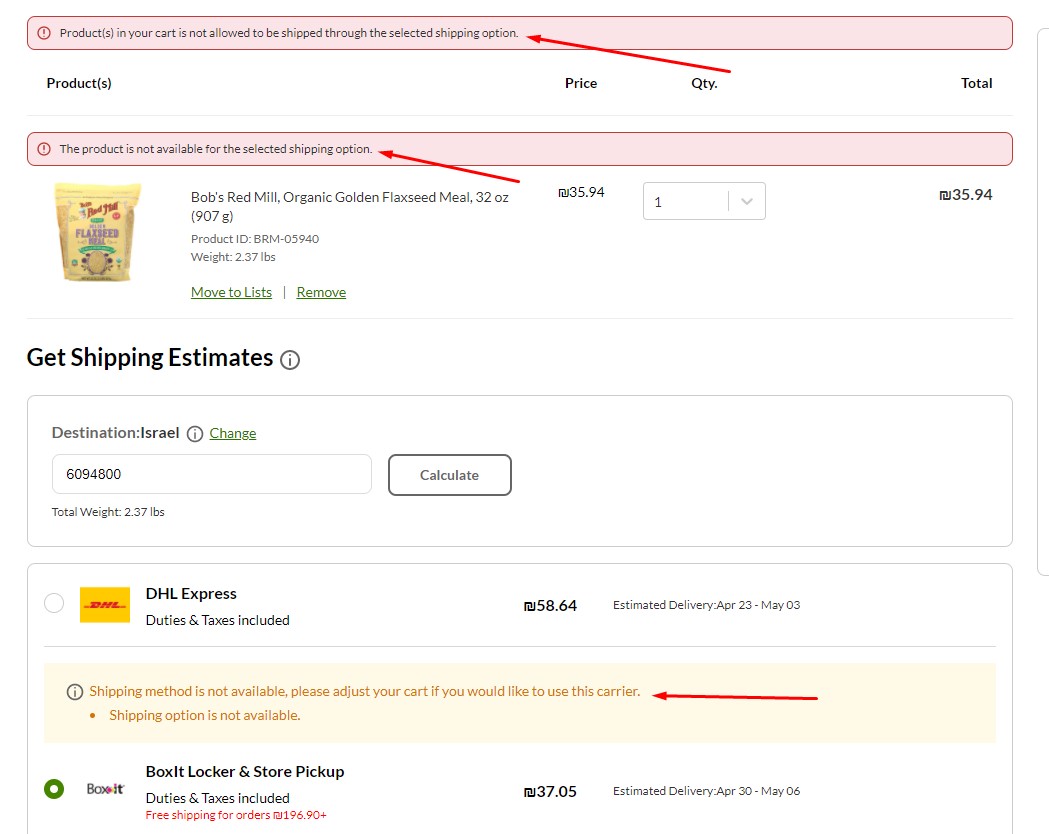 If you still have questions, feel free to chat with our virtual assistant or send us an email.