DHL picks up the orders from our Fulfilment Centers and delivers them to the destination countries customs department.

Once orders have cleared customs inspection and have been released they are given to the local postal service for final delivery.

Full tracking is available with this shipping method. However, after orders arrive in country, a new tracking number is provided by the local postal carrier.

Tracking link used before orders arrive in country: https://webtrack.dhlglobalmail.com

Please see further below to learn how to track your order using the local postal carrier tracking number.

Duties and taxes may need to be paid prior to customs releasing the orders for delivery.

Please see further below to learn how to easily pay customs and duties fees.

To use this shipping method, orders must be less than 4 lbs./ 1.8 kg and have an order value of less than $100 USD.
Normal delivery time is 4-6 weeks from shipping.
We recommend contacting DHL directly for the most accurate information regarding the status of your order. Please see below for contact information:
Carrier Name
Website
Contact Information
DHL

United States: 1-800-225-5345 (1-800-CALL DHL)
Global: +202 259 43200
HOW TO TRACK YOUR ORDER WITH LOCAL POST PLUS
Local Post Plus packages are delivered through the postal provider in your destination country (e.g. Correios do Brasil, Correos de México, Thailand Post, etc.).
Some packages may require further actions such as submitting Duty and VAT payments, updating contact or address information, or coordinating special delivery instructions with your local post office. These and other important details can be found by tracking your order on the local post office's website.
Local Post Plus packages contain 2 tracking numbers:
The first tracking number belongs to DHL (e.g

GM123456789123456000

).

The second and most important tracking number belongs to the local postal provider (e.gRX12345678DE

).
To locate the local postal provider tracking number, please follow the steps below:
Once you get your shipped confirmation email from iHerb, click on "Track my Package":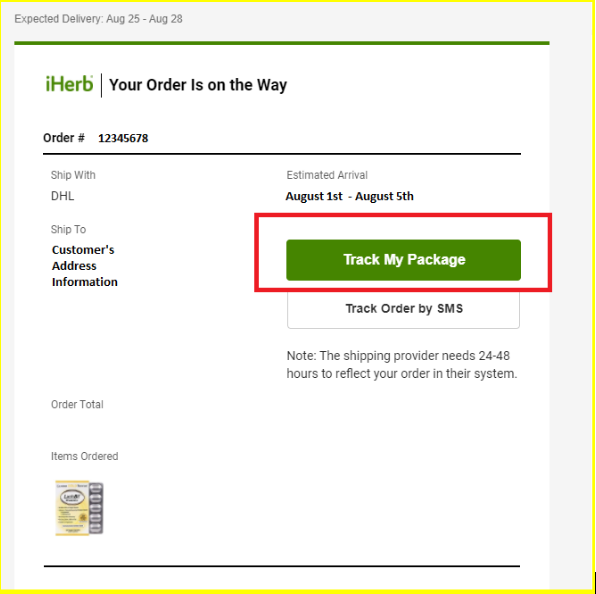 2. Once you are on the iHerb tracking page, click on the tracking number: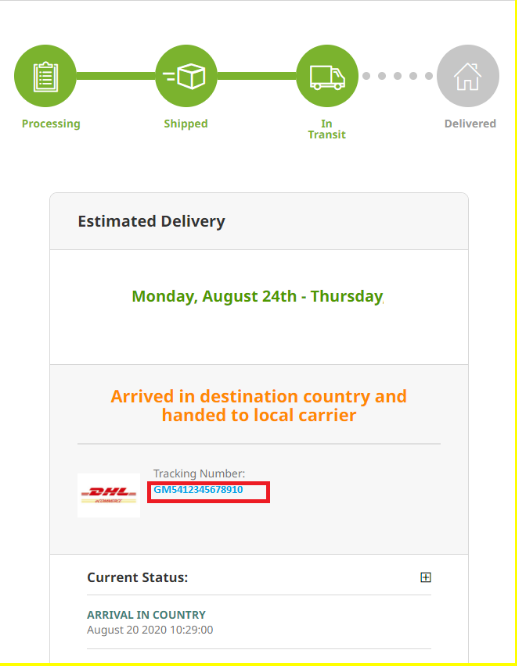 3. This will take you to the DHL tracking page. Once you are on the DHL tracking page, you can find your local post tracking number!
4. As indicated in the image below, please locate the "Delivery by Postal Provider" number (e.g. RX12345678DE)
You will need this tracking number in order to continue tracking your package on your local postal provider's website.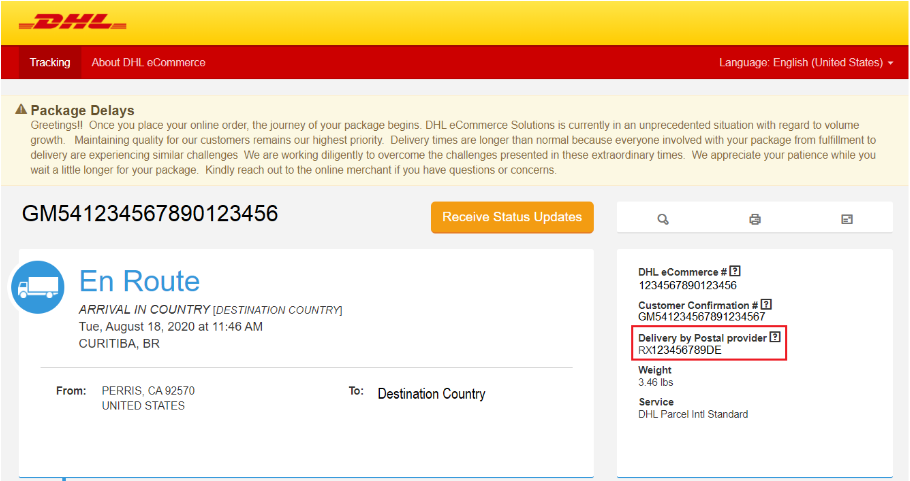 HOW TO PAY DUTIES & TAXES
After obtaining the Local Post tracking number you can track your order on the Correios tracking page.
Payment can be made online in the "

My Imports

" portal on the Correios website (via bank slip, Visa, Mastercard, and Diners).

Customers have 30 days to pay for the taxes that are due before the payment expires. Once expired, the package will be disposed of by customs.

Please note that after you have paid any additional fees, it may take up to 40 days for the local post to deliver your package.